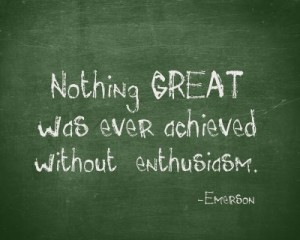 While there are plenty of jobs out there that will hire you based solely on experience, accomplishments, and even your college GPA, the role of the community manager isn't one of them. In addition to all of those things, personality, a willingness to grow and learn, a unique background, and enthusiasm go a lot a further than you might think. Especially when it comes to smaller companies and startups, company culture is crucial and the interview is the time to show your true colors.
Leading a community is a marathon, not a sprint, and you'll need the mental toughness to do it well.
In an interview however, nerves can get the best of you if you aren't readily prepared. I just experienced this first hand, and it's not the best feeling in the world. We learn from mistakes and move forward.
When preparing for the big interview of that community job you really want, follow these tips:
Do your homework: Research the company, the market, the current community manager, and reach out to friends that may help you get more insight into the company
Be creative: Come up with fun ideas and ways you can help the company in your role as their Community Manager
Ask about the interview format: Who will you be meeting with? What is the interview process?
Prepare:  Make a plan for general questions, including "Tell me about yourself," and create your talking points
Show your enthusiasm for the job in your voice and in your body language
Recently a CM role popped up that I fell in love.  I sent in my application, putting my heart and soul into a cover letter, and had a phone call interview set up within the week. I touched based on everything I wanted to on that initial phone interview. I asked my questions, impressed the interviewer with my preparedness (she even said so!).  I made sure to send my follow up as soon as I could gather my thoughts, and was asked to come in for an in-person interview.  That's when things went wrong.
I was ready to come in and lock things down with the job, however, I worked myself up so much that nerves hit me like a brick wall when I walked in.  I spoke with the woman from the phone interview, and then the CEO, which I was not prepared for. The interview was not by best and even though my follow up email covered everything, and I added a few more ideas, my fate was already sealed. A few days later, I received an email letting me know I wasn't being considered.
It is ok to ask for feedback in those situations. In my case, they confirmed three things:
my initial correspondence was so enthusiastic, and that's what got me the phone call,
my preparedness for the call got me in the door,
it was my nerves that lost me the opportunity.
They let me know that the enthusiasm I had previously shown wasn't visible in person, which was integral for the role. Body language and tone is just as important as the experience. I blew my chance at the job, but I did learn a few things and hope you can learn from my mistakes.
Be as charismatic in person as you are on the phone.