*Editor's Note: Klout has recently updated their platform to be about content creation.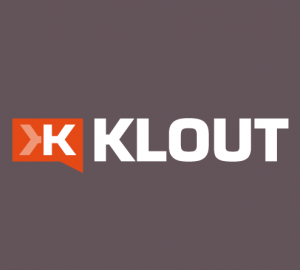 Influence matters for community management activities for at least two reasons: On one hand community managers want to influence their community in order to sell products (Marketing), position brands (Branding), attract talent (Human Resources), or show expertise (Customer Care). And on the other hand influential people or brands in a community are helpful sparring partners for community managers in order to become more influential and achieve their goals.
So much for the theory, but what can we do in practice?
Klout is a useful tool for community managers which allows us to observe our own influence and the influence among actors in the community which we target. The score is based on data from Facebook, Twitter, Instagram, Google+, Bing, LinkedIn, Foursquare, Wikipedia, and +K. The latter are recommendations regarding certain topics. By default Klout only uses data from Twitter, the other services must be connected manually by logging in.
My team is using Klout in order to outline, measure, and improve the community management activities which we execute for our clients. Also publicly available are rankings which we provide on www.einflussreich.ch (einflussreich = influential) with data from Klout. These rankings are currently limited to Switzerland and built around topics and industries such as media, culture, or politics. The picture below shows the ranking for the educational sector with schools and universities.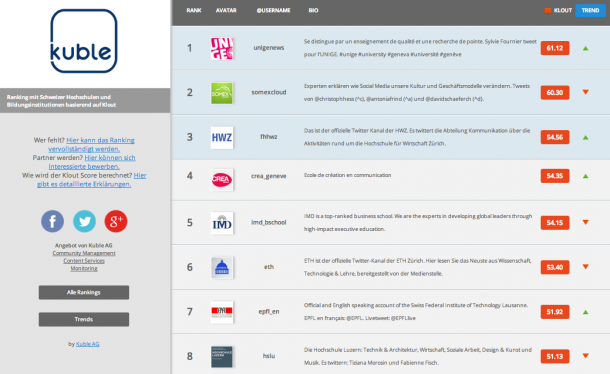 Using Klout as a community management tool we could learn several lessons so far:
Connecting more services than Twitter can have a negative impact on the Klout score. In this case the influence of a person or brand might be underestimated.

Influential brands and people are surrounded by other influential actors. So it's important to keep an eye on their networks as well.

Whether a Klout score increases or decreases is very often related to content. Klout provides this information as Moments.
Of course Klout has limitations. We think that the following points need to be kept in mind:
Not every person or brand uses or manually connects more services than Twitter. So it might be the case that Klout scores aren't based on the same data and therefore difficult to compare.

Klout scores don't change real-time. That's particularily relevant if community managers try to explain trends over time.

The data behind the Klout scores isn't reflecting everything that matters for community management activities. It's important to have a set of other indicators at hand.