Editor's Note:  We're live from the #CMXSummit all day today at Dogpatch Studios in San Francisco.  We'll be covering all of the sessions, but you can livestream the event as well: http://bit.ly/cmxlive
Robin Dreeke joins us from the FBI and his personal project, "People Formula," focusing on utilizing behavioral strategies to better communicate, aid and work with people in any community. With his work in the FBI, he leads behavioral analysis, building trust strategies for matters of espionage and intelligence, thus aiding the best of the best to influence and affect those around them. Clearly, this guy knows what he is talking about.
He first focused on trust strategies, and the value in establishing trust early on in conversation. He recommends to embed these behaviors into your own personality to truly embrace the value behind the principals. These can be defined as:
Suspend ego: find out about the other person, and wrap your content around their goals and objectives
Help them discover what they want: what is the core root of what they want? Ask open-ended questions of how/why to know more about the motives behind what they wan
Help them achieve it: ask directly how you may help them accomplish their goals
Questions to establish trust: Who are you? What do you want? When are you leaving?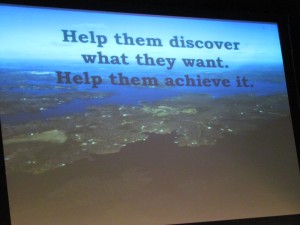 Robin also discussed the key value of Brain Rewards. As humans, we talk about our own priorities 40% of every single day; as he said, "sex, drugs, rock n' roll and talking about ourselves; that's what does it for us." He asks us to utilize this to our advantage by engaging people to learn their priorities, actively listen to their needs, and allow their brains to reward them for discussing their priorities. The key is to suspend your own ego, finding out what they want and helping them achieve it, all while keeping the precious ego in check. The hardest thing to do is suspend your own ego; wants we master this, we control the conversation.
Robin calls ego suspension the "Green Tundra Effect." Once you recognize that your ego is feeling threatened (and are able to control it), you can stop the mouth from engaging. In a moment of conflict from a third party, Robin recommends the steps below:
Acknowledge non-verbally what they are experiencing
Don't patronize
Admit wrong without an excuse
Ask for help from authority in room with self-deprecation
The goal inherently is to understand their goals and priorities, aligning your own with theirs, while suspending ego to push through to solution. As Robin says, "You don't need to be right, who cares! Let them be right while accomplishing your own goals."
Robin closes to ask what is your goal? If your goal or company's goal is to sell something, why should they buy it? How will it help them? Answering this question changes the priority from you to them, and allows you to understand their motivation behind their actions, while accomplishing your own goals. He pushes to ask, "how can I align my skills, product and company with their priorities?" Make sure they feel better for having met you, and manage expectations, while actively listening to their needs.
To dive deeper, find Robin at People Formula, or on Twitter. Thanks Robin!
 Photos by Danielle Siembieda.  See more of her work on siembieda.com