The fourth session of the day at the #CMXSummit was Lauren Anderson, the Chief Knowledge Officer at Collaborative Lab, and an Evangelist of the Collaborative Movement.  Lauren walked us through advice given to entrepreneurs in the early days of the collaborative movement, as well as important key takeaways of how community is at the heart of this movement.  Through her years of experience she had quite a few lessons to impart to the crowd.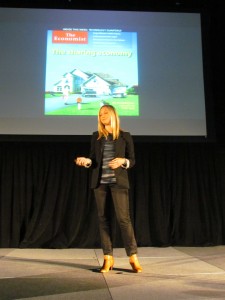 How Do You Grow a Community? 
The first example of a collaborative company was Airbnb. In the early days at Airbnb, Lauren noted they really captured the essence of community and they have grown their business to have booked over 10 million nights on their platform. However, the majority of their growth has come in the last few years, so how did they get to their first million nights booked?
Lauren shared a story of the first piece of advice that was given to CEO Brian Chesky to get started: "Do the things that don't scale.  Go out and meet your users and your hosts and guests and find out what brings them to this platform."  And that's exactly what they did.
What is Collaborative Consumption?
Reinvention of traditional market behaviors.
A global movement. A new economy.
Venture investment, sharing cities, events, startups, big brand innovation (Google, GM, BMW), local community groups
Examples;  Cars, bikes, social, errands, pet sharing, online, and many more.
"Community is at the epicentre of the collaborative economy," said Anderson. Who then went on to demonstrate the key values to building community within the collaborative world. Throughout each of these values there's a need to observe, listen, and adapt.
Collaboration
Empowerment
Openness
Humanness
Trust between Strangers
How do we suddenly feel comfortale getting into the front seat ofa strangers car for example, as Emily talked about in her presentation about Lyft. The question every user asks, "Can I trust this person?"   So how do you build that trust? You can start through significant amounts of communication through each of the following stages.
Verification
Connections
Interests/Values
Ratings/Reviews
To close her talk today, she left us with 3 key themes for building community in the collaborative economy:
Strong Values
Trust & Transparency
Empowered and Involved
Lauren left us with one last thought:  "I believe the future is all about community."
Editor's Note:  We're live from the #CMXSummit all day today at Dogpatch Studios in San Francisco.  We'll be covering all of the sessions, but you can livestream the event as well: http://bit.ly/cmxlive 
Photos by Danielle Siembieda.  See more of her work on siembieda.com