Dave McClure joins us today from 500 Startups to talk about how he built the communities he's been a part of over the years.  His agenda consisted of these groups: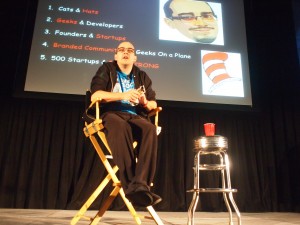 Cats and Hats
Geeks and Developers
Founders and Startups
Branded Community s& Geeks on a plane
500 Startups and 500 Strong
Currently 500 Startups has over 1000 founders and over 200 mentors, and community building is at it's core. Dave's talk was the first time he's structured a speech in this way and spent the majority of his time on stage talking about his journey and then answering questions from the crowd.  Here are a few of his thoughts on how community has been a theme throughout his life:
"Other people tend to engage with you quickly when you have a common bond."
"Things that give you a sense of wonder and love for the world a
re important.  A sense of playfulness in building a community is important."
"A shared sense of vulnerability bring people together."
"The Geek Shall Inherit the Earth" – In the 90s geek culture came into pop culture.
"There's always going to be tensions between marketing, sales, product, design, UX/UI.  But community can bring it all together."
"Geeks on a Plane" started because the domain was available.  "There's this amazing feeling of community when you travel with a group of people for 12 or so days. "
"When you get hate from an audience you're tapping into something they love. If they're indifferent you've got a problem."
Editor's Note:  We're live from the #CMXSummit all day today at Dogpatch Studios in San Francisco.  We'll be covering all of the sessions, but you can livestream the event as well: http://bit.ly/cmxlive 
Photos by Abby Sturges.  See more of her work on abbysturges.com