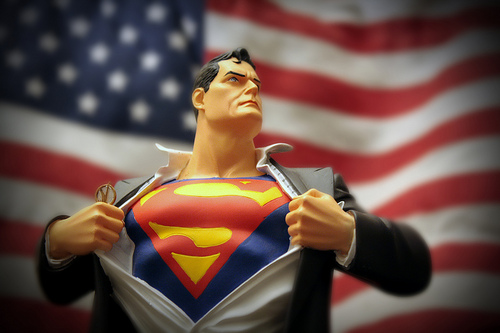 Community Manager Appreciation Day 2014 was a huge success, and wow was it amazing to see all that recognition for Community Managers! I could literally feel the love wafting off of my Twitter stream.
Some people may be wondering what it is that makes Community Managers worthy of all that social media adoration. As the CM at Get Satisfaction, I see first hand how my peers are helping their companies evolve into collaborative, social organizations.
We actually have a name for the transformation that happens to companies that actively embrace their customer communities — we call it The Community Effect (to learn more about this, download our Community Success Kit).
Community Managers have an important role to play in helping their companies unleash The Community Effect and become nimble organizations that are able to meet the needs of today's customers in all of the channels they expect to be served.
Here are the top 5 ways they influence this change:
1. Being the Ambassador for the Voice of the Customer
Customer-facing employees like support agents have always had the most intimate knowledge of customer feedback, challenges, desires, and pain points. But today's community managers aren't just responsible for making the customer feel heard and reach resolution, they lead by elevating those conversations throughout their organization. Building a customer-obsessed businesses today requires this hiring for this role.
2. Making the Brand Personal and Accessible to Customers
Community Managers publicly personify their brand. They're on the front lines, answering questions, explaining business decisions, and proving that the company cares about their customers to employ someone dedicated to engaging in constant conversation with them. The CM pulls in members from the product, executive, or sales team when someone asks a question that they aren't the best fit to answer. In this way, the Community Manager is actively bringing the personality of the company to the customer.
3. Helping Customers be Successful with Your Product
Whether fielding questions in the community, seeding FAQs, creating training content, or connecting customers to one another to share best practices, community managers are constantly providing customers with the resources to be as successful as possible. A customer that's realizing value from your products and services is likely to remain a customer, so this is an important function.
4. Collecting Customer Content for Marketing
Actual customer conversations are a tremendous source of content that can be useful for attracting new customers and convincing them to buy your products. And it's not just praise and other testimonials that are helpful. Often, Community Managers can identify customer responses to common questions that come up in the sales process. These can be really effective sales and marketing tools.
5. Identifying Your Champions and Brand Advocates
Best of all, your Community Manager is the person in the organization who is most likely to be able to identify, recognize, and build a relationship with your Champions and brand advocates. These are your best customers who will help other customers with their support issues and come to the brand's defense in a time of need. At Get Satisfaction our Champions are the most beloved members of our community.
I hope you'll join us in the ringing the bell for the Community Manager at your organization. If you don't have one, 2014 is the time to start thinking about building community. We think that community is a requirement for creating a strong customer experience.
—
Disclosure from Editor: Get Satisfaction is a sponsor of CMX Summit, and we think they're pretty great.
Photo Credit: mikerastiello via Compfight cc