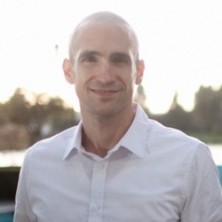 I'm straight up giddy to see Nir Eyal take the stage at CMX Summit.
I've been following Nir's work for a couple years now and have been fascinated by the insights he's collected around how to build habit loops into products and communities.
What excites me about the "hooked" model, as Nir calls it, is it will encourage you to think about community on a systemic level. You'll start to understand why some communities thrive with members coming back constantly and why some just fail.
To give you a bit of background into who Nir is and what he'll be talking about at CMX, we asked him to do a quick Q&A.
If you haven't already, get your tickets to CMX Summit to join hundreds of community professionals and see him live on Feb 6th in San Francisco.
Here we go…
1. I gave you a quick intro but tell us more about your work and what you do.
NE: I research, write, and consult on what makes certain technologies habit-forming and I just published a book on the topic called, "Hooked: How to Build Habit-Forming Technology." I also blog at NirAndFar.com and lecture frequently at the Stanford Graduate School of Business.
2. What will people learn from your talk at CMX Summit?
NE: I hope my talk will give people insights into what makes products with vibrant communities so engaging. We'll talk about the biology behind what makes some services so engaging and discuss what lessons we can learn from some of the biggest tech companies in the industry.
3. Why is it important for community builders to understand habit loops?
NE: The pattern I describe in my book is called the "Hook Model." Simply stated, it is a set of experiences designed to connect the user's problem with the company's solutions with enough frequency to form a habit. It turns out that forming user habits is not only beneficial to the company's bottom line (in the form of higher customer lifetime value and supercharged growth) but also improves user's lives by helping them establish healthy routines.
4. How do you define community?
NE: Community is a social structure, which provides members with meaningful connections to others.
5. What's one bite sized piece of advice you'd give a new community manager who wants to keep members active and engaged?
NE: My advice would be to think beyond the purely social aspects of a product and consider the habit-forming potential of the experience as a whole. Community can be a fantastic engine of engagement but it needs to fit into the right context to drive the business forward. Understanding where social interaction fits into the design of habit-forming products will be the focus of my talk.
—–
Come see Nir take the stage at CMX Summit, where the leading professionals in the community industry are coming together for a full day of more fascinating speakers and networking.
Tickets are limited!