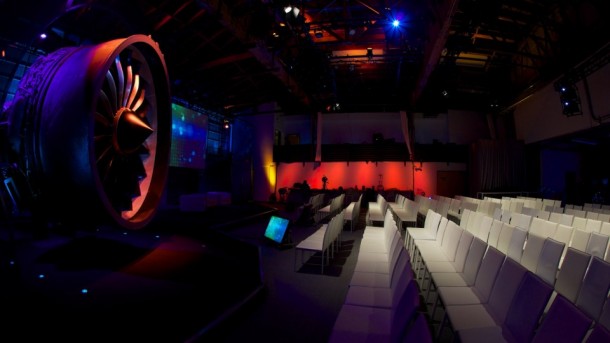 Well it's only been a couple weeks since we announced CMX Summit and the response has been unbelievable.
There are hundreds of community builders flying in from all over the world. Our industry will be coming together in a meaningful way for the first time in over a decade.
It's truly shaping up to be a special event.
And there's only 3 weeks left!  Today is the last day to get your tickets at the early bird rate so don't wait.
Today we have a few announcements and updates for those of you who have been eagerly awaiting the agenda and venue.
It's a beautiful space with a ton of character, perfect for the community we're bringing together at CMX. You can see a previous event that was hosted there in the picture above.
The entire space will be dedicated to CMX  because we wanted a location that could feel like a home.
2. A gift from Lyft
More good news is you can still get hotels in downtown SF, or anywhere in the city since Lyft is providing all guests with a $20 gift to use on rides to and from the event.
Dogpatch isn't super central, so you can all put those free rides to use. Use the online community to connect with others so you can carpool and meet each other.
3. The Full Agenda
I can't describe how proud I am of the speaker lineup. It's going to bring together perspectives that have never been put on stage before. We still have one more speaker to announce this week. But here's the full agenda otherwise.
You can also see the full agenda on the website.
(The agenda is subject to change)
8:15am – 9:30am – Open registration/Breakfast Bites & Networking
9:30am – 9:40am – Welcome from host
The Psychology of Trust and Communities
9:40am – 10:30am – Robin Dreeke – Why Should They? Trust Strategies for Every Situation
10:30am – 11:00am – David McMillan – Intro to Community Psychology and the "Sense of Community" Theory
11:00am – 11:20am – 20 min break
Community Building Lessons from Collaborative Consumption
11:20am – 11:50am – Emily Castor – Crafting a Self-Sustaining Community Culture: The Power of Ritual, Purpose, and Shared Identity
11:50am – 12:20pm – Lauren Anderson – When Customers are your Product: Lessons from Thousands of Collaborative Consumption Communities
12:20pm – 1:35pm Lunch & Networking
Building Community Products and Systems
1:35pm – 2:05pm  – Speaker to be announced…
2:05pm – 2:35pm – Ligaya Tichy – The Evolution of Communities – Social Design and Key Metrics for Every Stage
2:35pm – 3:20pm – Nir Eyal – Hooked: How to Build Habit-Forming Community Systems
3:20pm – 3:40pm – 20 min Break
Building Movements
3:40pm – 4:10pm – Dave McClure – Building the 500 Startups Community on a Global Scale

4:10pm – 5:00pm – Ellen Leanse – Lessons from the History of Communities – Why They Matter Today and Tomorrow
5:00pm- 7:00pm – Closing Remarks/Happy Hour & Networking