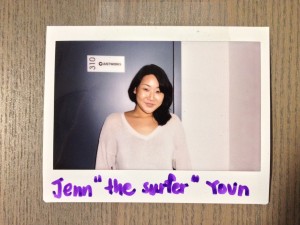 I recently came on to the team at Justworks as their Head of Community.
As I came on, Jennifer Youn was leaving, having wrapped up her 3 month internship as the Justworks Community Manager.
Before she headed out, I asked her to share some of what she learned while she was here with our team, and what it means to rally community.
KS: What got you interested in Community Management?
JY: Before this, I was a community manager at an agency in Brooklyn, and I built an urban lifestyle community from the ground up.
It was a great experience, and I really identified with the community I was managing at the agency. I was interested in spreading my wings to try a whole new community of people, and take on a more challenging, different demographic. When I learned about Justworks, I got excited because I believe in what the company was doing.
I found Justworks through a listing on Craigslist (really!). I knew they were a startup, and the job posting they put up was hilarious. I sent them an email right away – I think it was in the middle of the night! They brought me in to have conversations with the team, and the interview process involved talking with everyone on the team. I immediately liked the people that work here, and how passionate they all are about what they do.
You can always teach someone a skill set, but finding good people that really want to work towards a common goal is really the most important.
KS: What is the most challenging thing about working with a startup?
JY: Starting a community from the very beginning is challenging. If the internal team has strong community values, it is much easier to find customers and allies who identify with the team's mission and values.
Done right, there is no divide between internal company community and external community who like and engage with the brand. Tactics that help highlight this are behind-the-scenes moments of what's going on day-to day at the company, and spotlighting the personalities of the people behind the technology. Brands that do this really well include Zappos, Birchbox, and Vooza.
KS: What initiatives did you spearhead at JustWorks?
JY: One goal was to build conversations about payroll, HR, and the ups and downs of starting a company.
To get the conversations going, I started 3 different series on our blog.
Startups Confess involved interviews with anyone from the startup community, including designers, data analysts, founders, and community managers.
The Words of Wisdom series targeted people with more experience, like serial founders, investors, and CEOs to lend their insights, and advice, on what makes a company or brand successful.
Startup Codes was a weekly quote series, often inspired from things that I noticed from working here at JustWorks and suggestions from the team.
KS: What advice would you offer someone who wanted to become a community manager?
JY: I saw an interview with Charlie Rose once and when asked how to do the thing you want to do, his advice was, "Get close to the thing that you want to do, even if you're the person getting coffee and making copies." That quote really left made an impression on me.
After the market crash, it was hard to find a job. I didn't like the options available to me, so I decided to seek out the experiences I wanted to have. I would watch Gary Vaynerchuk and TED videos, to educate myself about the community and social media landscape. I carved out space for myself to be here, and I've never looked back. I learned that if you want to do something, ask for it, and then show people what you're capable of.
KS: What did you learn from the JustWorks community?
JY: I learned that you can't manage people, you can simply influence them, and add value to their lives, in whatever capacity that's going to be. I learned to get out of my own way, to take risks, and that your heart's got to be in it to be effective.
Everyone says that "Social Media has changed everything." What's really changed is how fast we can get our news, and how quickly we can interact with people who we deem relevant in our lives, whether that's a brand, a family member, or a friend. Connection remains important.
We wish Jenn the best of luck as she heads off to her next project!
Have you ever been a community management intern? What did you learn from your experience?