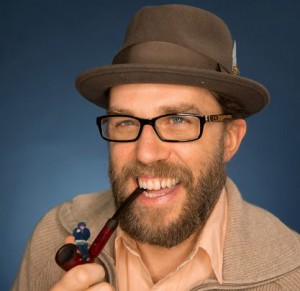 We recently interviewed Dave Olson, VP Community at Hootsuite, who is helping lead community for the company's fast international growth. We talked with him about how and why he builds community. Read on, and then join us on Thursday May 9 at 3pm ET for a Live Hangout and Q&A with Dave Olson.
How do you define a successful community?
You know you've done your job as a community manager when you can step away and the community sustains itself.
What does this mean? Participants start hanging out with each other beyond the original scope of the community and bridge geosociocultural barriers that often exist in real life, and instead come together for common cause and interest.
Why is community so important to you?
We humans are defined by the stories we tell and the people we tell them to. Community gives a context for us to share our experiences, inspire others, and learn from one another. without community, we're simply sitting solo, and thats not fun nor scalable.
Is community more valuable to businesses today than it was 5-10 years ago?
It's easier to amplify stories now with social media channels, but community has always been a critical part of any successful brand. A great example of brands building community is Patagonia – who fostered customer culture, activities, missions, and participation long before the internet.
#bonus: Sports teams are another example of businesses building community around their brands. But at the end of the day, social media merely gives us another tool to build community outside analogue channels.
What was the hardest challenge you've ever faced as a community manager? How did you overcome it?
Challenge = inspiring Germans to embrace HootSuite.
A: To overcome this, we needed to learn their social norms and culture. So we set out to figure out more about what Germans cared about. This helped us overcome any preconceived notions we had. So we found German 'helpers' (at the beer store, naturally),started with listening and intelligence gathering to understand how we could help the Germans.
We then made a quirky video celebrating German culture (ie Oktoberfest, beer, pretzels, guten Tag, etc) and sent a HootSuite representative to give a keynote presentation at Social Media Week in Berlin to let them know we're cool and real people – not just a distant company.
What's HootSuite and how are you guys building community?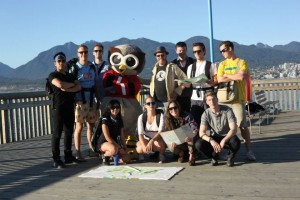 HootSuite is a social media management system which allows you to easily manage your your social presences from one secure dashboard.
We build community through listening and and responding, getting to know our friends (users), and sending them on missions (#HootMission). The important part of our job is finding something for everyone. If you're doing the first couple of things right (ie listening and responding), people will raise their hand and want to get involved. It's then our job to make sure we find a way to include everyone who self-identifies. We do this by putting these people into different programs to suit their ambition.
What's been the biggest challenge & biggest triumph in building an international community at Hootsuite?
We look at each new market as a new puzzle to solve. This is both challenging, but rewarding at the same time. It's important to make sure that you don't treat all markets the same. We pay special attention to cultural nuances, social media use cases, preferred social networks, economic / political situations and so on to decide an approach for each market. Everything is a challenge… but an awesome challenge at that!
2 specific recent challenges come to mind:
Localizing HootSuite for Chinese. Because HootSuite is not available in China, we had to understand the internet restrictions (Great Firewall?) as well as the greater worldwide Chinese market as a whole, and multiple variations of the Chinese language as well as political concerns.
The next challenge we're working on is for Arabic. Classic Arabic writes right to left, so you can imagine, translating software is a tad difficult. Also, within the Arabic speaking world there's many different cultures with significant social sensitivities – we want to ensure we understand so we can help communications rather than cause kerfuffles.
How do you track the success of your community building efforts?
On one hand, we judge our success empirically through measuring new user growth in international markets. For example, usage of the dashboard, international foreign languages on the dashboard, HootSuite Pro users, signups, Enterprise leads, signups, Twitter followers, mentions, etc – the list is endless!
But we also play close attention to anecdotal measures of success including happiness, participation in programs (HootUps, the Diplomat Program, and Translation Program).
Because we feel if we can make users happy, get them talking and evangelize our product, it means we've hit a cultural chord with that market. Signups and fancy numbers will follow in haste. But it's important to make sure we've cracked the code for each country and are generating happy people on the ground.
What advice do you have for someone just getting into community management?
1. Be a good communicator. This starts with listening: voraciously track all mentions of your brand, industry, competitors, and friends. Also, understand the vocab and lingo your users use.
2. Understand your story. Your brand isn't as logo, its a story and a culture. Figure out who your heroes, your adversary, and what your journey is. Then take everyone on this magical journey (Hop on the HootBus anyone?).
3. Go analogue. Don't get hung up on doing everything virtually. The real power of community is face to face interactions. Get offline, and meet your stakeholder in real life for hugs and high fives!
Who do you turn to for community building inspiration?
Tom Sawyer
What kinds of questions should people ask you in our upcoming hangout?
Ask about the impact of Grateful Dead, cub scouts and hitchhiking to foreign countries had on my cmgr building skills.
#Bonus – Also, ask me about my beard, home brewed craft beer, and my creative inspiration.
–
Daveo, thank you so much for sharing your CM Story with the TCM community.
This is a hangout you won't want to miss. We promise. We'll open up the floor to you guys to ask your own questions. See you there, RSVP Thursday 5/9/2013 for a Live Hangout and Q&A with Dave Olson.