LinkedIn just did something really cool this week with their most recent "Top Percent-ers" email campaign. They made 20 million users really happy by letting them know their profiles were the most viewed on all of LinkedIn.  That's no small feat and I'm sure was incredibly hard to pull together across departments internally. Telling users that they are the top 1%, 5%, or 10% makes them feel pretty damn special, and it either reignites their love for the product, or reaffirms it. I know for a minute I was excited that I fell into any of those categories since they have 200 million users.
They stroked a few egos with a well executed email campaign that had the perfect balance of message, design, and ease that resulted in a firestorm of shareable activity. But what did they do wrong?  Two big things.
1) What about the other 90%? 
They missed a serious opportunity to reactivate the "bottom" 90%. They missed out on a teachable moment.  Everyone on the internet loves bragging rights almost as much, if not more than, they love memes and cats. Getting someone to share a big achievement isn't necessarily a hard thing to do if they're already some of your most active users. But if you're trying to bolster site numbers, empower/reactivate a community, market through word of mouth what are you doing for mass majority? Excluding them runs the risk of more negativity than positivity.
The easy answer is at the same time you were sending your 1, 5, 10% emails – you should have also had a similar campaign ready to go to the rest of your userbase. The message could have been quite different and it could have been something to the effect of "We released the numbers of most viewed profiles today. What can you do in the future to improve how often your profile gets viewed?" Then include a link to blog post about most optimized and successful profiles. Or connect them to some of the most influential people doing it right. This way, you wouldn't have ignored your users, and you would have provided them a resource to be better. Instead there were a few bruised egos out there…
2) Where's the context?
There's a serious possibility that the one, five, and ten percent-ers may know each other.  The active online community in social media and professional circles is mind numbingly small.  The level of interconnectedness is actually even pointed out by LinkedIn Labs own map that shows how everyone basically knows everyone.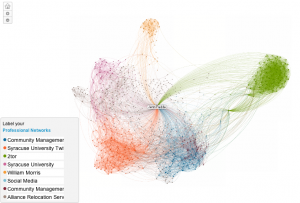 Quite a few of my friends and colleagues were in my 5% bracket, but one of my coworkers was in the elusive 1% bracket. She's our VP of Business Development, so it's no surprise why she is the 1%. What exactly sets her profile apart from mine?  Is it purely number of connections so that they're viewing her profile more?  Does it come to down to keyword usage? Post updates? Profile modifications?  What exactly gets your profile viewed on a more consistent basis?  A little context would have brought me to my profile to make a few enhancements to try and be better.
An argument can be made for keeping it simple like they did. But as someone in the 5%… I kind of want to know what I have to do to get into the top 1%. That just could be my competitive nature speaking though…
Either way, while there's no doubt Linked In's Top Percentage campaign was successful, you can't help but think, "Could it have been better?"