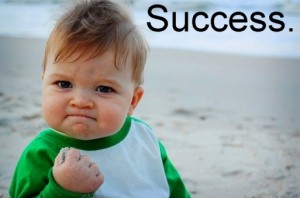 Since breaking into social and community management a couple of years, if there's one thing I haven't thought I needed more of, its blogging tips. To this day, there are countless posts on blogging for branding, business, personal interest, and everything in between. That said, most of these posts skew towards managing your own personal or brand blog, and overlook guest blogging.
For community managers, guest blogging can be one of the most beneficial practices when it comes to defining goals and discovering a clear on outreach efforts. But before even the most experienced blogger can dive right in and start reaching out to other sites to contribute, the most important question they must ask themselves is "what are the goals and metrics around this outreach?"
To help you answer that question or build your future guest blogging strategy, here are a few different metrics to consider:
Personal Branding
When blogging to increase your personal brand and influence, you want to target sites that are going to elevate your status and further prove her place in the industry. Here, its more important to be selective when reaching out because your brand is much more likely to grow through the quality, not quantity of your posts.
If done right, you'll be able to see your community grow because of the trust you gain with the other blog's communities. Blogging for branding and authority is most beneficial for agency professionals as displaying their knowledge on an issue can directly lead to new business.
Tools to measure success: Buzzstream, Cision
Traffic
If driving traffic to your web properties, it's best to seek out not only highly reputable blogs, but also ones that relate back to your brand or site. To further your potential for traffic back to your site, try to find topics that relate back to your site or brand while still serving the blog's community.
By writing an effective post that can be related to back to you, you can take that opportunity to add links within the post that support your message. While you don't want to be self-serving, there is nothing wrong than furthering your point with relevant information. Ultimately, if you continue to offer value to these visitors, your articles will start to translate in community growth around your own properties.
Tools to use: Google Analytics, Google Link Tagging 
SEO
While its not talked about enough, SEO benefits may be the important return on guest blogging. When guest blogging, you will usually have the opportunity to include a bio and a link or two of your choice. This is your chance to build your site strength and rank in search engines because Google dictates your authority ultimately by how many sites you are linking to. So no only do you benefit once again with higher authority blogs, but if you start to diversify your link portfolio by reaching out to a higher volume of sites, you are simultaneously building your blogger community.
Tools to measure success: SEOmoz, Conductor
As you can see, there are many benefits for focusing on a guest blogging strategy. However, your goals can never be put first when creating content for another blogger's site. While your goals may dictate the site you reach out to or some of the content, you must write for blogger and their community's benefit. If you provide valuable content to these communities, you will be able to reach your goals across the board while supporting the communities you are trying to enter.
As always, community building comes down to the needs of the community.