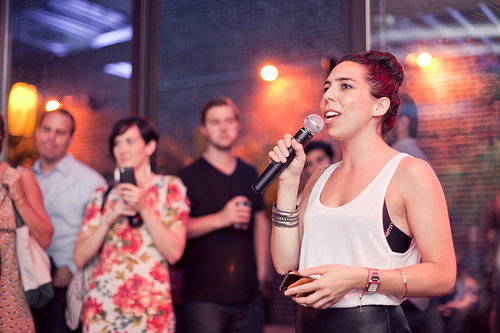 I'm a community builder, networker, recruiter, & all-around scrappy go-getter. 
PRE: For four years, I worked towards changing the face of education for kids in this country as a member of Teach For America's recruitment team. I sought out, built relationships with, and convinced hundreds of teachers and staff members to join the movement to end educational inequity. 
PERI: In pursuit of a way to give back on a global scale, I joined American Jewish World Service Global Circle (yup, it's a mouthful!), fell in love with its mission to empower local leaders in their own communities, attended every event they had & am now a member of its Steering Committee. 
I made a crafty transition from the non-profit world to the tech sector by telling anyone and everyone how passionate I am about the intersection of social impact and technology. I got my hands dirty with a few different social impact startup projects, and…voila! I'm now the Skillshare Community Manager (read: Most Enthusiastic Evangelist, Queen of Questions & Answers, Biggest Teacher Advocate, Lover of Learning…and the list goes on). Of course, as soon as I became a CM, I started a Facebook group for my neighborhood (BoCoCa!), and it's now 60 Brooklynites strong – join us for a drink sometime!
POST: Always seeking to engage with action-oriented, forward-thinking people, discover and become ever more myself than I am now (& to help others feel that excitement, too), & eat lots of cheese and savor rocky New England beaches.
CM Stories: Q & A
Editor's note: This week's installment of CM Stories comes to you in interview form. We asked Skillshare Community Manager, Danya Cheskis-Gold, to dig deep and spill her guts on everything from community-building to work/life balance. (P.S. – You can see her talk about community building here.) Here's what we got!
How did you get into Community?
When I was a kid, my dad used to challenge me: "You can't have 6 best friends! Best means one…" I still beg to differ and continue to be at my best – my most energetic, inspired, and happy – when I'm building relationships and making introductions. That's why discovering community management a year and a half ago was kismet. 
I majored in Anthropology, which was really a degree in understanding humanity and community building, and when I graduated from college, I joined the recruitment team at Teach For America, where I remained for 4 years, traveling around the country convincing our smartest college grads to commit their brains and grit to our lowest income schools. During my first month at TFA, I formed a regular happy hour crew, which I had no idea at the time would lead to more official efforts around inclusivity and team culture that I'd captain for the rest of my time there. I was also the "she'll do anything" girl and ended up piloting a number of different programs that were then adopted and baked into the recruitment strategy for the entire company.
There was a theme emerging: from digging into people's motivations to inspire them to act to being sensitive to lots of disparate needs in a large and growing group of strong personalities, I loved community (even though I didn't know that's what my passion was called right then!). Ready for a change in pace, I came across community management as I started to explore a transition from the non-profit world to Startup Heaven. The more I told people about my strengths and interests—strong communication skills (written and verbal!), very convincing, event planner, not afraid to work ridiculously hard and smart—all fateful arrows pointed to a role as a community manager. When I met the Skillshare co-founders right before the company launched, my background in education and recruitment lined up perfectly with their need to build a community from scratch, and so it began!
How is Community important at Skillshare?
Skillshare, a marketplace for classes, would not exist without its teachers and students. From Day One, our community has been the focal point of Skillshare's evolution. I was the 2nd employee at Skillshare, other than the co-founders and a designer, which says volumes about the insight of the co-founders into the value of building a brand and business that stems from its community. Every single day for at least the first few months of Skillshare's existence, everyone in the company attended classes, and I spent my days individually coaching people who had skills to share but had never taught before, creating helpful and interesting content (from teacher how-to guides to inspirational Tumblr posts), building a strong customer care system that ensure satisfaction, and galvanizing our most active and committed community members to help us grow.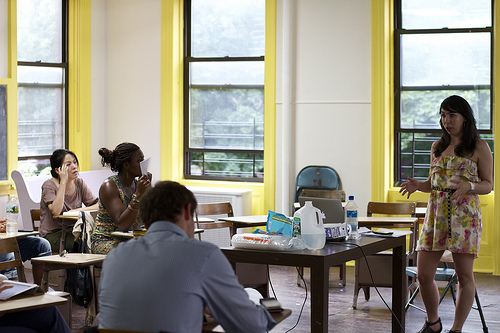 Since I started, we've hired a whole Community team, and our skills range from marketing to PR to online community management to project management. Each of us is partnered up with Skillshare designers and developers to ensure that the features they create line up with the needs of our community. Our entire company conducts user interviews every week to make sure we're listening to our teachers' and students' opinions and creating a product they'll love. 
In return for listening to and prioritizing our community members above all else, we've seen amazing things happen: one student built Cardboard Class as a solution for teachers who were having trouble finding venues to host their classes at, and one of our top teachers went on to create his own school (he lists all of its classes on Skillshare).
What are some of the biggest challenges you've come up against while building community at Skillshare or elsewhere?
On one hand, the biggest challenge has been figuring out what 'community' actually means at Skillshare. At first, I was the only non-Product employee at Skillshare, so I did it all (as many of you likely do now!), and a year and a half later, although my job has narrowed a bit as we've grown our Community team, there's still a lot of pinch-hitting and just figuring it out as we go. The fact is, you have to figure out what you're building community around so you can decide what programs, features, or content to create. For us, Skillshare classes are the main attraction, and everything our Community team does comes back to ensuring creative, hands-on learning that anyone can do.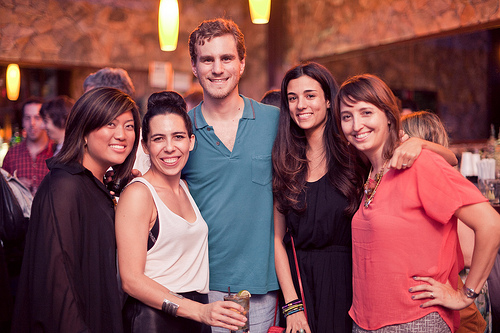 One of the biggest lessons we've learned in the past year or so is that you have to be on the ground level the whole way, getting your hands dirty and not expecting others to do the job for you. We've gone through a number of superuser, ambassador, and special ops programs (call 'em what you want – you know what I'm talking about!), and the lesson we've learned every time is that we can't expect others to build our community for us and that the best rewards for passionate supporters are recognition and attention.
Where do you turn for inspiration? What are your community management mantras?
Dave Brown, Evan Hamilton, Ligaya Tichy, Cindy Au, and Rich Millington are some of my favorite community builders to follow (that list is SO not complete…but let's start there!). I also get really excited by the work of anyone who obsesses over human interaction and motivation: Sir Ken Robinson, Simon Sinek, Brene Brown, and Maria Popova, just to name a few. 
Some of my community building mantras (which I have taped to my computer monitor so I can see them every day!) are:
Murder Your Darlings – an old phrase from journalism, it's all about caring for your work deeply and personally but being willing to kill the projects or strategies that haven't worked and move on quickly for the sake of improvement.
Simplify, Simplify, Simplify – this is a central core value at Skillshare, and I constantly have to remind myself to focus. We don't need 10 superuser programs or 3 different Twitter accounts—it's all about discovering what the community wants and tying that back into Skillshare's stage of growth and not getting distracted.
Surprise & Delight – our goal is to make something people love, and sometimes that extends all the way to customer care, where we have lots of freedom to make our community members happy by providing unexpected Skillshare Scholarships when they've had a disappointing experience.