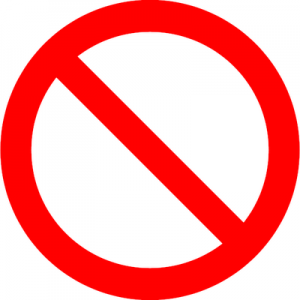 Before we tackle what a community manager isn't, we have to ask: What is a community manager? 
In 2012, after 7 solid years of social media platforms and 20 years of internet forums and comment moderation, this actually IS an answerable question with shades of right answers and most definitely wrong answers, contrary to popular belief. If you're going to say, "Well, it depends" then to you I say, you have not done enough reading. To fix that, here are some light resources by excellent sources (and these are only a few):
There. That's settled. Can we all agree henceforth to stop saying, "It depends" and "There's no clear definition"?
No, that wasn't enough? I thought you'd say that, and am glad to have you challenge this.
If you don't want to acknowledge the definitive resources above, I can understand that, so let's look at it from another angle. Let's think of all of the things that a community manager should have no part in—and why. This can go for everyone in the world of startups, agencies, freelancing, brands, and corporations. Companies may not necessarily need a community manager just because it's a buzzword and everyone has to have one.
Hire for the jobs you need to balance the talent you already have, not the titles that confuse you and what people think they want. If you are hiring for the very specific things of let's say SEO, partnerships, content creation, and virality (content shares on social), then you should be looking for a internet marketer, or social media manager to perform these specific marketing tasks. If your person doesn't seem to fit in "community," then find another title to fit the job you need. You may not be a community manager, and that's OK.
A community manager is not a catch-all position. It is not a role that can handle all of your "digital."
A community manager does work on social communities some of the time. However, it's very important that this person is not the main person to handle your Facebook Page, Multiple Facebook Groups, Google+, Twitter, YouTube, Instagram, Pinterest, Vimeo, Viddy, Quora, Tumblr, Linked In Page, Linked In Groups, Analytics, Blogger Outreach, Fourquare, and Blogging. Would you make your receptionist answer 75 phone lines? No.
If you are making this person handle all of the above, I can guarantee you that they're not doing any of it extraordinarily well if for no other reason than they are overwhelmed. There are teams of people needed for a variety of functions. Are you a boot strapped startup?  Start small with the idea of scaling as you grow to include a social media manager (or 2) and a community manager, as well as a strategist for each side.
"Community" is not marketing, support, PR, product, or communications, but it sure plays a role in all of them, and should have a seat at the table for each area in order to bring the voice of the user/member/participant to the forefront.
It is not a position that must go to your recent graduate hire who was an intern last summer and "gets social" and it is also not something that gets folded into the seasoned communications pro of 25 years' day to day functions. To be clear: the role CAN go to either of these two if they're qualified. Oftentimes community does get housed in the above—but usually because executives don't yet know what to do with it.
Community should still function as its own entity—with the business objective it's housed in as its goal.
Community management in the past few years has come to swallow up social media tools in its job descriptions, but "managing accounts" is not the sole responsibility.
Why haven't we gotten to the point of "Social Media Account Managers" yet?
"Hi I'm Stacie—and I'm the Communications Account Manager for Brands X, Y, and Z handling Facebook & Twitter, at So and So Agency"

"Hi I'm Pete and I'm the Visual Media Account Manager handling Pinterest, YouTube, and Tumblr here at Sample Company"
These sound so much clearer than "I'm a community manager."  (Though I worry for all of the above should Facebook shut down or Twitter stop working because they're all unowned properties—but that's another post for another day.)
What other tasks are community managers not well suited for, specifically?
Brand awareness?
Have your PR staff take this over (and educate them on being human, not PR spokespeople) with the community manager's guidance.
Lead Generation?
Community managers in general operate in an organic capacity, so leave them out of any of your paid initiatives when it comes to ad buying, affiliate marketing or partnerships.
Trying to acquire new fans?
Have your internet marketing team own this branding & fan acquisition initiative and pair them with a SEO strategist/web data team/social media manager.
Determine web analytics?
If you're counting FB shares, Twitter shares, +1s, web traffic, blog comments, you're not a community manager. Outside of "growth" what do those things tell you? Nothing of any value. But if you're actively engaging in conversations, creating events & meetups to get your members together (virtually or in person), you're in community. A community manager will work with the web data team to track all of these activities and see if they're working in marketing/sales.
Managing your content?
This could go in a few ways depending on the size of the blog, who the writers are (are they community members?), and how much content you're producing.
Building out product?
That's for your tech development team. Community managers can be active with that team, though, to provide feedback, notes, and insight.
Trying to get your users/fans/members to talk to each other and keep coming back?
THERE is where you find your community manager.
So what DOES a community manager do?
Communication, moderation, guideline writing, engaging day to day online (forums, owned communities, blogs, newsletters) and offline (events, conferences, meetups), strategy, working with the social teams/marketing/support/product/PR/management, surveying, customer service, and a variety of other activities.