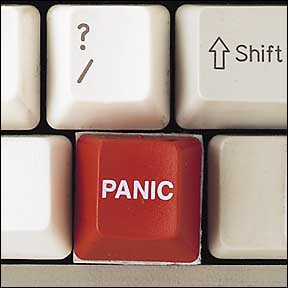 Pageviews are down. Engagement is down. New members are down. After three months of steady growth, my community has hit a lull. How could this happen; we did everything right?!
Trained our support team and set up workflows.
Seeded the community with FAQs and answers.
Transferred ideas from Ideabank.
Invited a beta group to test out the community.
Emailed all our customers an invitation (after 6 weeks of beta).
Blogged about the value of the community and how-to navigate it.
We answer questions almost immediately. We solve problems in hours. We respond to ideas and encourage suggestions.
So what is going on!?!
After agonizing over the workflows we have in place, the strategy we're using, debating over the release schedule, even blaming vacation season, I realized what was going on: buzz. We spent all this time and energy getting people to join and use our community. And they did – yay! Our views in beta were 3000 in March and doubled in April. So we announced the community to the entire customer audience and did almost 9000 views in May. We succeeded. Our 1500 customers knew about the community.
But let's be honest: this community thing isn't for everyone.
Our pageviews plummeted back down below 6000 in June. Some customers will ALWAYS call. Or they'll always create a case. We run a small support team and they know that when they call, they won't wait long on hold, and one of three people will be able to help them—like they have been for the past two years of our product's existence. Some people won't take to this format; they won't enjoy this type of interaction.
But others will. They'll keep asking their questions. They'll submit their problems with screen shots. They'll post comments from their cell phones on a weekend. They'll eventually answer each other's questions before we can get to them. They'll even begin having conversations about their work in general, not just how they use the product. They'll talk to each other in addition to talking to us.
So we've lost a few initial members. The new will wear off. The buzz will die down. But what we're left with is our true target audience; our customers who will help turn this support-based forum into an actual community.
While I did sweat out the month of July, I kept my system in place. I watched pageviews religiously. I communicated with our active customers offline, encouraging them to respond to topics I thought they would find interesting. I prompted them to respond when other users asked for advice. I sent them thank you cards, baked goods, and gift cards to let them know how much we appreciate their help (Side note: All of our customers are non-profit organizations—mainly art and children's museums, gardens, and theaters. Baked goods were the most popular thank you BY FAR.) I continued to email non-members topics I thought they'd be interested in. And the result?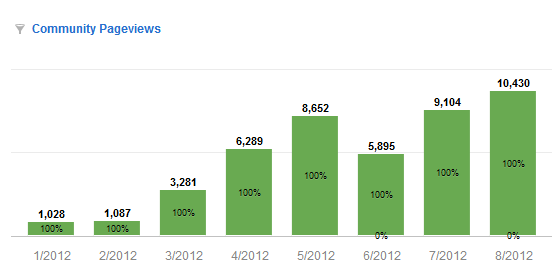 So if there is a lull in your community, don't panic.
Do your best to drive people to your community when you launch. Do your best to keep them engaged. But don't panic if you see a drop. The initial drop off is normal. The buzz is over; now it's time to build.
Photo cred: chris.pirillo.com