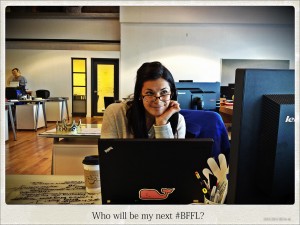 If you're a community manager tasked with building relationships through blogger outreach, you might find yourself wondering what the most effective ways are to get started. Fear not, with quite a bit of blogger outreach under my belt, I'm here to help!
Whether your community is teachers, those in the public service sector or college students, there are a few things these bloggers have in common: a passion for their area of expertise.
Here are a few of my personal tips when you're reaching out and making new BFFLs (Best Friends For Life):
Find The Right People
You could craft the best email in the world, send out the most viral tweet of your life, or comment in the most sophisticated way, but none of that matters unless you're reaching out to the right people. What I mean is: bloggers who are active in their community, are open to others posting on their sites, and are willing to communicate (like write back to you) at all. Once you find these people, keep track of them. My favorite tool is Buzzstream.
Know Your Audience
This may seem obvious, but not all bloggers that post about a general subject have the same opinions or views. Take time to understand the person you are reaching out to. Do you have anything in common? Maybe you went to the same college or grew up in a nearby town, maybe you recently attended a concert that they were at too, or maybe you both have a serious obsession with bull dogs (shout out to Erica Moss)…whatever it is, take some time to understand the person you are reaching out to so you can offer them something they'll actually want.
Read Their Blogs
I can't stress this point enough: READ THEIR BLOGS! (Sorry for the shouty capitals.) If you're reaching out to a blogger that is super passionate about homeschooling their children, it's probably best not to pitch them about the school of education you wo srk for, unless of course you're sharing a piece of content that may be a relevant resource. Also, be careful not to pitch topics they have recently/already written about—this is a sure way to show you didn't actually read anything on their site. Read their blog, reference posts you like and communicate what you're looking for.
Be For Real & Personal
Tell the blogger who you are: "A little about me…" It's important to be a person and not a robot. Let the blogger get to know you and connect yourself with them in a real way…perhaps connect them to your Twitter account or professional blog. Avoid starting an email with a sales pitch and put yourself in their shoes. Ask yourself, "What would I think if I received this email?" If you wouldn't be flattered or excited to connect, then you'll want to switch it up.
Care About What You Do
I know every community manager doesn't work in their industry of choice, but every community manager has an innate sense of caring about community and connecting. Use your passion of connecting with people to drive your blogger relations—it will come across in your outreach, I promise!
Offer Something of Substance
Why are you reaching out? Do you want to guest post? Connect on social media? Add a resource link? Share an infographic or other piece of content? After you've been super real and drawn connections, tell them why you so badly wanted to reach out. Honesty really is the best policy.
The Art of Follow Up
Follow up! You're not be annoying (unless you do it 5 times in a week). Your original email could have gone to spam or maybe the blogger you reached out to had the busiest week of their life. Don't be scared to give a little nudge: "… I just wanted to make sure you got my initial email since I haven't heard back." ← it's all you have to say! And if the blogger does let you post on their site, share a resource, etc – Thank them! A simple thank you can go a long way and may even help you in the future.
The above approaches are only a handful of the many different ways to effectively connect with your blogger community—I didn't even brush the surface of content, but it's a start! What other approaches have you found effective? Have you done something super awesome? Let me know!
Editor's note: This is the first in a series of articles about blogger outreach. Stay tuned next week for the next installment: how to keep bloggers continuously engaged.