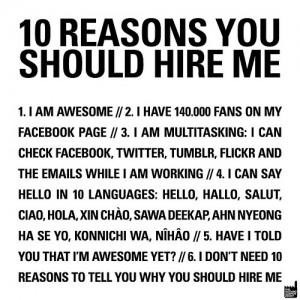 You're really good at building online communities. You've volunteered for years, labored with love, and you wear that Internet Leadership role so very well. You're ready to make the leap into the world of professional Community Management.
To make the leap, you need to stand out from the field of applicants, regardless of their professional experience—a tough task when trying to break into a new career, but very doable. By laying the following groundwork, you can turn your day job into your Community Manager dream job.
Blog More
Boosting your blogging output (or starting blogging period) is the very first thing you can do to up your employability.
Write often—at least weekly. Treat your blog as a living resume, filled with personal branding and a delightful display of your writing prowess.
Your audience is your future employer. Write about what you learned from the vicious flame wars of 2007, or how to do [this awesome Community thing]. Analyze news stories from a CM perspective. Big companies commit social media faux pas all the time, and each represents a chance for you to jump in and weigh in.
Write even when nothing's coming to you. Write about your side projects and what you learned the day before. Not every post has to be directly CM-related; in fact, it's better if they aren't. Vary it up!
As an added benefit, when a hiring manager asks you for writing samples, you'll be armed and ready.
Build Your Resume with Specific Community Manager Skills
Many wonderful CMs write many wonderful blog posts about essential community manager skills, but they inevitably focus on abstract concepts rather than concrete, actionable resume materials. When working toward that first gig, focus on learning clear, discrete skills and tools that you can highlight on your resume. Such as:
I dove into a longer list of potential skills and tools in a Quora thread dedicated to landing your first CM gig. While you're at it, consider taking an online course or two at MediaBistro. Having a teacher show you the ropes, even on a basic level, speeds up the learning process by an order of magnitude.
Another step for adding new bullet points to your resume: Install everything you possibly can on your own website. Use this as a sandbox to install WordPress, Google Apps, phpBB forums, and other out-of-box products. They don't have to be public; rather, use them as an excuse to start tinkering. Even if you're never called on to set up a new blog from scratch, knowing how looks good.
Volunteer to Manage Someone Else's Community
Find a friend with a crazy startup idea, and offer to manage the heck out of his Tumblr. If you're already active on a forum, apply to be a moderator. Target anything that involves creating content, such as blogging, tweeting or managing a Facebook fan page. Prior to professional experience, your side projects create your most important community manager resume material.
Websites that run on user generated content rock for volunteer positions, especially if they're niche. UGC sites need a mix of curation, evangelism and moderation that you can turn into bona fide experience.
Make yourself useful to as many people as possible. If you have to, give it away for free—but if you can charge, charge. Even if it's just a few dollars an hour, having someone else pay you validates the skills you're putting on your resume.
While you're volunteering, focus on deliverables you can turn into resume bullets. Offer to rewrite the site's Moderator Guidelines, take over the YouTube account, double the listenership of their podcast, or take it on yourself to recruit new volunteers.
Attend Social Media, Tech and Community Manager Meetups
As James Baldwin wrote here on TCM last year, networking gives you a significant edge in finding your first CM job. To that end, go where your people are. Presentations, lectures, happy hours. Anything that puts you in front of those doing your dream job is time well spent.
Start by searching for CM meetups in your area. For networking opportunities in general, Plancast will expose you to happenings you might not (yet) be invited to.
Social Media Club runs events all over the world, and is targeted for social media marketers, community managers and tech types. Presentations like Ignite and Nerd Nite get smart, like-minded folks in the same room.
Once there, say hi! Video game industry vet Darius Kazemi maintains a fantastic how-to guide for networking and personal branding designed to help you get noticed. Prep your personal elevator pitch and hit the town.
Apply, Apply, Apply
You've got skills, connections and side projects. Time to start applying.
Your best chance of success comes from companies that have an established community team with multiple positions. Companies hiring their first (or only) community manager tend to have different expectations, regardless of whether they consider it "entry level." While not impossible, you'll have much more to prove if the company intends to rely on you and only you.
Companies with multiple job openings (usually more customer service oriented) tend to know what they're looking for, and are more likely to see the value of your shining skillset.
Don't let that narrow your net, though. Apply everywhere. Each interview teaches you more about what hiring managers seek. Most importantly, stay in touch with the people you interview with. You're looking for mentors as much as employers.
Good Luck!
Every skill learned, hand shook and interview scheduled puts you one step closer to landing your first CM job. You'll have some duds, but they're all part of the process. Just keep learning and keep applying, and one day you'll be rocking your new gig.
Photo cred: The Nothing Corporation