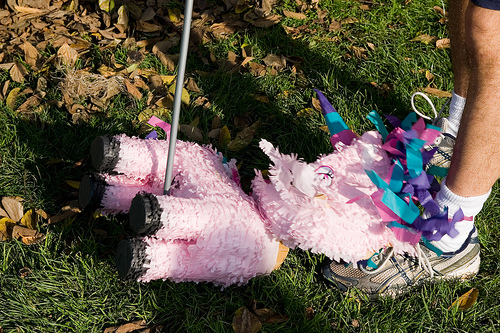 Nobody wants to be a beat up piñata. If you've been a community manager for a while, you know exactly where this reference comes from. In case you need a refresher, you can go directly inside my mind to find out.
Today I was on a call with fellow members of The Community Roundtable, regarding strategies for solo practitioners. I shared my thoughts in the following couple of slides – Solo v. Loco.
Advice from Additional Community Managers
In my work with The Pillar Summit (a community manager training program), I speak with a lot of practitioners. Here's what 3 others advised about working on your own – from their real-life experience as solo practitioners.
Alisha Miranda @makeshiftalisha

Make sure you're a community manager for a community that you actively share an interest in. Know your interests, find your passions and contribute to those communities.
Really be self-disciplined when it comes to deadlines and priorities. Figure out the correct paths to make things happen on your own.
Take a step back and do retrospectives through out the year. This is especially important for folks like me who are consultants. I brainstorm and map out skills and potential opportunities  each quarter.
Look to content that inspires you. For design I follow Fast Company, for great curating I like Brain Pickings, and for local foods I stay up-to-date reading With Love from Brooklyn. Of course there's always stuff from my Tumblr dashboard to promote and share.
Dave Delaney @davedelaney

Go a step further than transparency. Be honest and sincere—it shines through. Don't overtly try to sell stuff; no one likes that.
The power of handshakes, high-fives and hugs. If there are no events, create them. Connecting with people in person is key.
It's not what you say, but what you do. The word "community" is gimmicky. Just treat people like your friends. They may not even want to be recognized as a "community."
Ride the wave. Often, communities for recognized brands already exist. Leverage them with social technologies.
Check out Content Rules, a personal favorite from a friend, C.C. Chapman.
Danya Cheskis-Gold @danyacg

Over, over communicate. As your team grows, it's easy to lose track of what's going on in other parts of the company. This is when things can start to get messy and strategies may not be aligned. At Skillshare, we brainstorm, do research, ping back and forth with other people on the team to see what everyone thinks. We figure out priorities as a group, poke holes and then plan things out.
Don't hire too early. First figure out what's working well and what doesn't work. Create positions for the programs that are working.
When building a team, know your mission. Think 6 months ahead, a year ahead. Give new hires specific responsibilities and help them succeed.
As Danya points out, the goal is to grow or replenish your community and eventually to not be the only one managing it. What tidbits of wisdom do you have for other solo community managers?
The more we learn and share with one another, the fewer deaded piñatas there are.
Other cool reads on The Community Manager network include:
7 Tips to Rock Your New Community Manager Gig
Internal v. External Community Building
Introducing Numbers to the Community (parts 1-3)
Photo cred: Sha Sha Chu