When looking for a new job as a community or social media manager and you're just starting out, there are a lot of skills and qualities you are required to have prior to starting the new job. You need to be passionate, dedicated, great at multitasking, etc. Most people know this already and most of your competition for your new job will already have these skills. So, how do you gain an edge in the hiring process? Networking. That's how.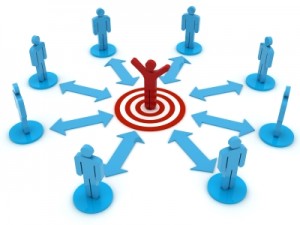 As a community manager you are tasked with creating and building and sustaining a community.  If you are going to get a job as a CM you should be demonstrating these skills in creating a network of recruiters, fellow community managers, and even other job searchers.
Not only will you gain new friends but you will also learn a massive amount of information along the way. Furthermore, having friends working at the company you're applying to will give you a huge advantage as they can often put in a good word for you. At the end of the day, that may be all you need to land that job you want. So where does one start with networking? I have created a quick starting list that should help almost anyone wishing to start networking.

Join the Major Social Networks
This should be an obvious point, but if you're not already on Facebook, Twitter, LinkedIn and Google+ make sure you create an account. LinkedIn may be one of the most important network to join (and keep up to date with) due to the seriousness in which users take the network and the groups. Facebook and Twitter should be obvious as to why they are important (800 million users on one and 250 million tweets a day on the other). It is also very important that you keep these profiles current and up-to-date. When your future employer is looking up your social profiles, it is vital that the information listed matches the information on your resume.
If you're a community manager, make sure your digital presence is consistent across your platforms.  Have one picture on every profile, use the same keywords and phrasing for your positions you've head and the ones you're looking for.
Join Professional Groups

There are tons of groups out there dedicated to social media and community managers. While most are located within the major social networking sites, this is not always the case. There are plenty of external sites that are designed for industry professionals. Below are just a few examples of some groups you can join to start networking with other community managers.
LinkedIn
Facebook
Twitter
Other
Start engaging in conversations
There are a ton of people talking with each other in many areas of the internet. Now all you need to do is to jump into some conversations and share your ideas and opinions. Not only will you meet new people and build relationships, but you will also learn more than you could imagine. Also, ask questions. Lots of them. These groups are generally very friendly and are able to answer almost any question you may have related community management.
Meet Offline, Often

It is one thing to meet fellow community managers online, but it is an entirely different thing to actually meet them face to face. You are able to build a much closer relationship with people this way.  Apply the same principles of being an excellent CM to your own job search.
If you live in a major "hub" then you have no excuse for not meeting fellow industry professionals since they are everywhere. There are a ton of weekly meetups that occur, you just need to find them. Check out TCM's Meetup.com/CM page and see if there are meetups happening in your area already.  Or make one happen.  LinkedIn and Facebook are great places to search for this. Otherwise, travel to as many conventions as you can. This is where everyone who is anyone is at and you really want to be there if you wish to network to your full potential.
This list helped me personally find my first gig as a community manager and I'm sure I am not alone. There is a famous saying that states "it's not what you know, it's who you know that counts." While what you know is still very important I think people still underestimate the importance of who you know. So get out there, introduce yourself and meet some new people!
*Also remember to check out thecommunitymanager.com's job board for community managers.