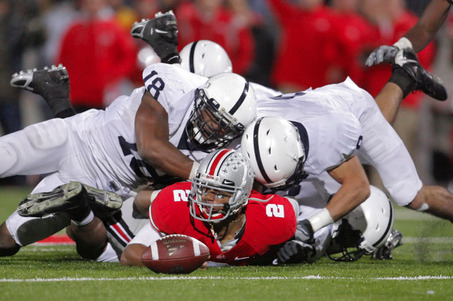 I was a wide-eyed manager of an infant community.
Our mobile app Kik Messenger was just gaining traction.
There were a couple hundred Facebook fans, I talked to people every day in smartphone forums and I received a smattering of emails that I dutifully responded to in less than 24 hours.
Then it all changed and it happened overnight. I mean literally overnight. I woke up one morning to hundreds of emails, thousands more Facebook fans and more tweets than I had saw before. I really couldn't handle the amount of activity that occurred during the time that Kik Messenger went 'viral'.
Emails went unanswered, tweets were not replied to and a fan page wall was blitzed. I fumbled and dropped the CM ball and it resulted in a bad community experience for thousands of first-timers. I was not prepared for the surge in activity and my self-esteem really took a hit. Was I cut out for this or should I be benched?
Since then I have recovered.  It wasn't easy but I learned so much along the way.  Here are my tips:
1. Build a solid foundation
Part of the reason why I wasn't able to handle the surge in community activity was that I was a part-time university student. I could not devote the amount of time that I wanted in order to handle both community management and school. Community management is not a 9-to-5 job and I learned the hard way that when you start out you are going to be working your butt off building a solid foundation for yourself.
All the hard work pays off and now I am way more efficient and can prioritize my daily duties much more effectively. I have canned responses on Gmail, I completely streamlined the Kik Get Satisfaction community and I created a calendar of blog posts, tweets and facebook status posts for a month in advance.
2. Gain that trust back
A lot of new Kik users had issues during the rocky couple of weeks after going viral. Our back-end just couldn't handle the traffic and it was crashing unexpectedly. This was the worst first impression. To add insult to injury, a lot of customer service requests went unanswered because of their sheer volume.
No amount of apologizing is going to make someone forget about this. But, for the people that continued to use the product whenever they required support I was there. Since that time I have resolved almost every single support request and I now have a community that often praises my service.
3. Educate yourself
Other people have been where I was then. Other people have been community managers for a long time. Their gift to me is that often they write about their experiences. I speak to other community managers (shout out to Melanie Baker!), I read blogs written by community managers (including this one!) and I attend conferences and webinars.
If I were a doctor it would not only be my duty to educate myself on current trends and research, but it would also be to my advantage. Through education and experience I will become a better community manager.
So, pretty much you need to put in time and effort to recover from a community manager fumble. If you love your community and believe in what you're doing then success will come. Now get out there and show them what you've got!