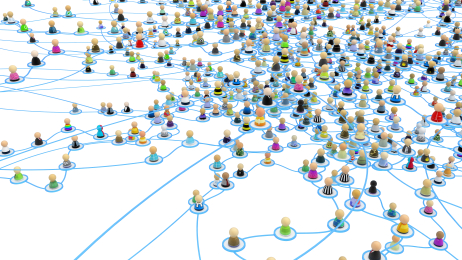 So you've made the decision to adopt a new customer self-service community.  Perhaps it is brand new, or perhaps you are moving platforms to a new one (hopefully Vanilla!).  In either case, you will want to take some steps in planning how you will manage and measure the success of your community.  So where to start?
I think many Community Managers would agree that a good early step is to define business goals and objectives for the community. What are some typical goals of customer self-service?  They include:  to empower the customer, enable them to help each other, reduce support costs, increase customer loyalty, increase customer referrals, increase customer satisfaction, and stimulate new product ideas, to name a few.
And how do you do this? By planning for the reality of the community leadership being shared or dispersed among a number of members, especially including members external to your organization (e.g. your customers themselves), something called Distributed Leadership.
By applying Distributed Leadership to your community, you are engaging with your customers, making them part of the team.
Research conducted by Deborah Ancona of MIT, and documented in her book, "X-Teams: How To Build Teams That Lead, Innovate and Succeed," show that teams that are externally focused, and include co-operative external relationships, perform better that teams that are internally focused.  The X-Team approach is about being flexible, about finding different layers of responsibility and delegating, empowering and recognizing each effectively (all things that apply to Community Management).  It's about recognizing that some of these layers will be filled with stakeholders outside of the company.
A very useful framework to consult while planning for distributed leadership in your community is the 4E Leadership Framework, developed by Mick Yates of Leader-Values.com (@mickyates), in this case combined with his thinking on Building Better Organizational Networks: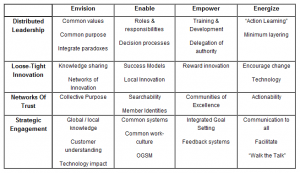 If we leverage this framework in planning for our community, and within the context of distributed leadership, we would envision common values, a common purpose.  What do we and our customers have in common? What do we both want to get out of the community? What identity to we want the community to have, or at minimum, with what would both be mutually satisfied? How could we build on that foundation to make something truly great?
From there we need to identify, enable, empower and energize the different layers and roles that will make up the team.  How will we recognize our most active contributing customers? What processes will we use to delegate authority in the community to them? What decision process will we utilize in dealing with trolls and negative users? How will we train our customers to use the forum effectively to both get their questions answered and to ideally help others? These are some of the questions we should be asking, and documenting the answers.
From the get-go we need to have a good idea of who will have a role in the community and what their permission-level and expected contributions will be.  If we are communicating to customers that they will get better answers faster through the community then that is the experience they need to have.  That means empowering people across the organization and externally, who are equipped to answer the questions, to be able to do so quickly and efficiently.
Once we have a good picture of what we are trying to achieve and who is on our success team, we can set some specific metrics that will track achievement and lay down some realistic, relevant, and time-bound target numbers for each.