Editor's Note:  This post was written by Harrison Kratz, Community Manager for the online MBA program, MBA@UNC. Aside from the great list he has put together below, he also has a social good panel submitted for SxSW called, "Keys, Boxes, Toys; Build a Cause-Passionate Army."  
*****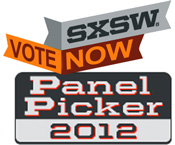 The SxSW Panel voting period is rolling right along and our annual shameless plug bonanza is in full force. I figured that since this is a community for; well, community managers, that I should shed some light on our favorite community based panels that are vying to be selected.
This list is in no particular order:
Community and Influence: How to not piss people off
Panel: Frank Eliason, Maria Ogneva, Megan Berry, & Evan Hamilton
*****
Humans + Robots: Creating Search and Social Friendly Content
Panel: Jenn Pedde, Tiffany Monhollon, Holly Hoffman, Matt Egan, Mike King
 *****
10 Ways Corporate Communities Can Act More Human
Panel: Peter Tsai and Jeffery Sullivan
  *****
Community Drives How Business Thrives
Panel: Jelena Woehr and Darnel Witt
  *****
Taking Online Communities Offline
Panel: Sarah Drinkwater, Isabelle O'Carroll, Helen MacBain, Nikhil Shah
 *****
10 Ways You're Killing Your Online Community
Speaker: Jennifer Koontz
 *****
Get Lucky: Create Serendipity to Spur Innovation
Panel: Rawn Shah and Rachel Happe
 *****
Hope you like these panels as much as I do. Go vote, comment and support our fellow Community Managers! Plus, it'd be a great way to get a free drink down at SxSW. You can also check out the other community panels here to see what else catches your eye.
Are there any others that you would add to the list?