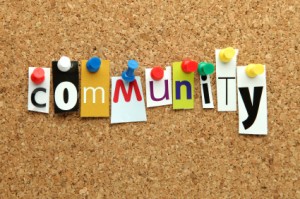 Most of you who read this post are probably managing a community for, or representing a brand of some size. That brand may be small, or it could be global. Nonetheless, that brand's community is everything to you, and rightfully so. Hell, you're getting paid to engage… that's always a great opportunity.
Amidst the general excitement and immersion that comes with communicating and community managing for a brand, we sometimes find ourselves forgetting about one of the most important communities around: Our own. It's so easy to lose track and not find time to communicate with our communities, and no one can really fault you for it. This is especially interesting to see because in most cases in social media, the engagement you had with your community have something to do with your current position. Its kind of like getting a great job after your family encouraged you to go for it – and instead of rushing home to share your excitement, you get caught up in the work and find little time to connect with them about your new life.
I think the last thing that we want to do while we follow our career path is to lose touch with our own personal community – out network of family, friends, supporters, etc. The importance of our own community is increasingly amplified in today's world of social media and communication. But don't worry; here are a couple of tips that can you save you from a "divorce" with your community.
Take your community out for a drink
Well not literally. With all of the in-real-life events that are now going on a nearly daily basis, it is easier and more fun than ever to connect with our community in person… which frankly, is much more important than tweeting with them. Yes, this means you aren't connecting on your usual global scale, but I would say that it is always more important to foster those important relationships within your community rather than try and branch out for a bunch of small, hollow contacts. Your community's events will be going on with or without you. Set aside an hour or two for some friendly conversations.
Chat it up… one hour at a time
If you're a community manager, I'm guessing that a group people in your online community are participating in Twitter chats (ex: #CMGRchat!). I think Twitter Chats are a great way to make up for lost time. Its almost like Twitter's version of speed dating – You join a bunch of people in the community, communicate like rapid fire, talk to a lot of people, build some great connections, and after an hour its up to you on how you want to develop those relationships. My point being is that it is a great way to engage with your community, meet new people, and leave an impression on your online community. Even if it's just for a short amount of time, you want your community to see that you are here and ready to communicate.
A little engagement goes a long way
I think we sometimes get caught up in sharing that inspiring content or blog post that is just covered in awesome-ness. Unfortunately, if you're not communicating with your community and building trust, why should they read the posts you share? Instead, try making it a point to hone in on connecting one on one with others in the Twittersphere. Don't underestimate what a simple RT or @ reply can do. They're visible to your entire community; connect with an individual (always a bonus), and shows that you're still listening to what is going on in your community. Just popping your head in for a few minutes to say hi and listen can go a long way. Just remember, in moments of brevity – being genuine is everything.
I understand if you have a lot of work to do, but if you have time to read this post, you have time to communicate with your community. Fostering your community will only make a better community manager and communicator in the long run. So, get out there and engage so that when you share this "fantastic" post, your community will take action. 🙂
Harrison Kratz is the Community Manager at MBA@UNC, the new Online MBA program at the University of North Carolina and sticks to his entrepreneurial roots as the founder of the global social good campaign, Tweet Drive. Feel free to connect with him on Twitter, @KratzPR!