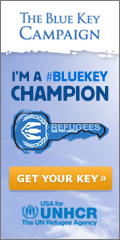 One of the things I love about social media is how new information evolves from peaking our interest to having us take action in such a short time span. That evolution can range from seeing a link, reading the article, and then sharing it (taking action) to seeing a cause, reading a little bit, and becoming an advocate for that cause.
Irecently experienced the latter when I saw the #BlueKey hashtag floating around among some of my friends on Twitter. With so many of the people I trust on Twitter sharing this topic, I had to check it out a little more. I found that Blue Key is a social good campaign by USA for United Nations High Commissioner for Refugees to help refugees around the world open the door to a new life. Just a week later, I was at Blog World in New York City and ran in to Shonali Burke, the PR superstar who has dedicated her time and passion to raising awareness for the campaign and creating a community of champions for Blue Key. After talking for just two minutes, I knew that this was a cause I wanted to be apart of. I now have my Blue Key, and with World Refugee Day quickly approaching (June 20th), I am doing everything I can to champion this cause.
I could go on about why these refugees need our help, but since you read this site for information and insight into community managing, I'll just direct you to a great post from Justin Goldsborough, another Blue Key champion. From a community perspective, Shonali and the USA for UNHCR have done an incredible job in rallying together an influential community to advocate for something much bigger than all of us. This isn't about coming together over a natural disaster or single event, this is about bringing people together under the idea of helping those who we cannot see, do not know, nor will ever meet. The fact that we now have the opportunity to build community around such concepts and philanthropic morals is incredibly powerful and one of the key responsibilities of the social world we live in.
Whether you're building a community for a cause, brand, or concept, its imperative you show your passion and empower others to pursue their passions within the community. A successful community is formed through a group of people; big or small, that believes in the reason why they have come together.
Social good isn't defined through singular causes or dollar amounts, but a central idea of building community to help those who have none. The Blue Key campaign doesn't only teach us to help those who we cannot see, but also that we have the power to come together through passion and belief – the foundation for any community.